Per Aaron Ross in "Predictable Revenue," the best way to generate predictable revenue is via an outbound sales strategy. Building an outbound sales process is, however, a non-trivial task. As a sales operations consultant, I outline the six (6) steps or variables required to create an effective outbound sales process.
The six steps are:
Understanding your ideal customer profile (ICP)
Knowing who your key personas within those ICPs are
Your message to each of those personas
Sourcing those leads
The sequence of steps you will take to engages with those personas
The ability of the person who is conducting the outbound process
A lot is going on within each step, so let's dive in and start unpacking it.
Understanding your ideal customer profile (ICP)
In a previous article, I discussed how to know if your company was mature with their data. The first step in data maturity is knowing your ideal customers; what are the size, shape, and orientation of the companies that buy your product.
Often this variable is broken down by one or more of the following variables: 
employee count,
annual revenue,
industry, and
geolocation.
Sometimes, different information is required to identify appropriate companies. For instance, at FatStax (acquired by BigTinCan in 2019) the variables we used were the number of SKUs and field sales reps, two non-trivial data points.
Once you understand what those companies look like, you need to segment them into different company types; small and medium-sized business (SMB), mid-market, and enterprise customers.
For companies that have focused sales into state, local, and education markets (SLED), those areas should be segmented. Remember, a local township's decision-making process will be vastly different from the state or federal prospects.
Now that you've identified what companies you sell into and have segmented them into market segments, it is now time to look into the people who will help you make a deal.
Personas that drive revenue
Within each ideal customer segment, you will have a number of people who will be part of the buyer's journey for one reason or another. In the most traditional sense, you will have;
A champion; someone who will love your products, services, and wares. They will act as your trusted advisor throughout the process, helping you navigate the economic, political, and upheld beliefs that can help or hinder your cause.
The technical buyer; someone who will be in the weeds with your products, services, and wares. They will ensure that whatever you are bringing in will not adversely affect their already delicate ecosystem.
The economic buyer; someone who will sign the check or approve the PO. They will want to know the return on investment (ROI) you will bring to the table, how it will be measured, and what it will contribute to the bottom line.
The decision-maker; someone who will decide if the economic buyer signs the check. The decision-maker will be the one making the call.
With all these people part of the buyer's journey, it is crucial to ensure that it will resonate with them when you build your message to them in their journey. This leads us to the next section.
The rev ops move to hone into on your ICP & personas
Before jumping into data lead providers, you could follow one avenue is that if you have important customer data, you can use services such as WhiteRabbitIntel or PatternAI. Both services allow you to run your data through them to pattern match identifying the key personas with your target ICP.
Lead sourcing
Finding the right lead source is likely the hardest part of building an outbound strategy.
I'm not saying finding the right people is hard; finding the correct contact information is.
Finding verified data has been made even more complicated by the global Covid pandemic with more people working remotely, and now randomly people working remotely or back in the office.
For this reason, it is imperative that organizations consistently benchmark their lead source providers. Knowing that each lead provider has its own strengths and weaknesses typically put a company one step ahead of the competition. Having two or three lead providers can put you two or three steps ahead of the competition.
As a primer, at the time of writing this article, I differentiate lead providers into three categories;
Web scrapers,
Data lakes, and
Human verified.
If you have been paying attention, ensure that one has human verification included if you use two data providers.
In the category of web scrapers, I put companies such as Leadiq, Lusha, Wiza, Hunter.io, Uplead, and Seamless.ai in it. They are great when you have lists from LinkedIn navigator or another source and scrape that data. However, they usually fail when it comes to direct dial or mobile phone numbers.
In the category of data lakes, ZoomInfo is the one everyone talks about, however, Infotelligence, SalesIntel, Cognsim, Slintel, Definitive Healthcare, and Apollo are all solid competitors in this category. Additionally, everyone in the class has data verification sliders that help users find leads with the most accurate data.
To differentiate within the category, they each provide slightly different angles to the data. For instance, they may also allow you to search on intent data (ZoomInfo via Bombora), technographic, or both (like Infotelligence), skillset (Slintel), or provide you with the ability to research on-demand for leads not found in the database (SalesIntel). If you are focusing on the hospital system, then Definitive Healthcare should be on your evaluation list.
In the final category of human-verified leads falls Cloudleads.co or use a company such as TaskMinions. Both of these groups provide bespoke and human-verified leads. That means, when you call someone on the list, someone has confirmed they answered the phone and validated the prospect. Cloudleads.co even has a social engagement score, so you know if you should add LinkedIn creeping and messaging into your sequence (more on that in the next section).
All in all, it is vital to keep tabs on how well your leads are doing, have your sales operations team review the number of bad phone numbers, bounced email, etc… to continually evaluate the health of your lead provider.
As with all things, people change jobs and locations. Being sure you are aligned with a data lead provider with the best data for you and your total addressable market is key.
One great way to run a quick evaluation is something I did at SkySync. Get as many lists as you can, then run a trial with an AI or agent-assisted dialer (such as Connect and Sell, Monster Connect, Koncert, or Orum) (be sure you know to familiarize yourself with TCPA compliance beforehand). Then, within an afternoon or two, you will know which data provider works best for you.
Your prospecting message(s)
While it is hard to identify whom a champion is by doing a LinkedIn search, someone's title, role, and responsibilities tend to give it away. For this reason, it is essential to effectively break down a title. More on that has been written about in another article.
The short version of the story provides a compelling message that will resonate with that person, highlight the pain points they experience in their role, within their company, regarding their unique part of the customer journey. In this way, you can show your prospect how they qualify as a lead and should be a potential customer.
Your outbound sales & prospecting sequence
A sequence is a set number of steps, and outreach types that a sales rep will go through to provide the best chance of engaging with a prospect and lead.
Typically a sequence includes cold calling, cold emailing, dropping voicemails, follow-up phone calls, possibly sending SMS messages, package drops, pretty much anything that can grab your prospect's attention, all with the goal of booking a meeting and generating a lead from your sales and marketing efforts, which will eventually turn into a closed deal.
On the one hand, every industry and prospect type has its own sequence to respond to.
On the other hand, some sequences are known to work, or at least act as starting points.
The two that I typically recommend are Justin Michael's ClusterBombs sequence and the Agoge Sequence from Sam Nelson. Within a week, Combo will hit a prospect eight or more times, whereas Agoge will be about six.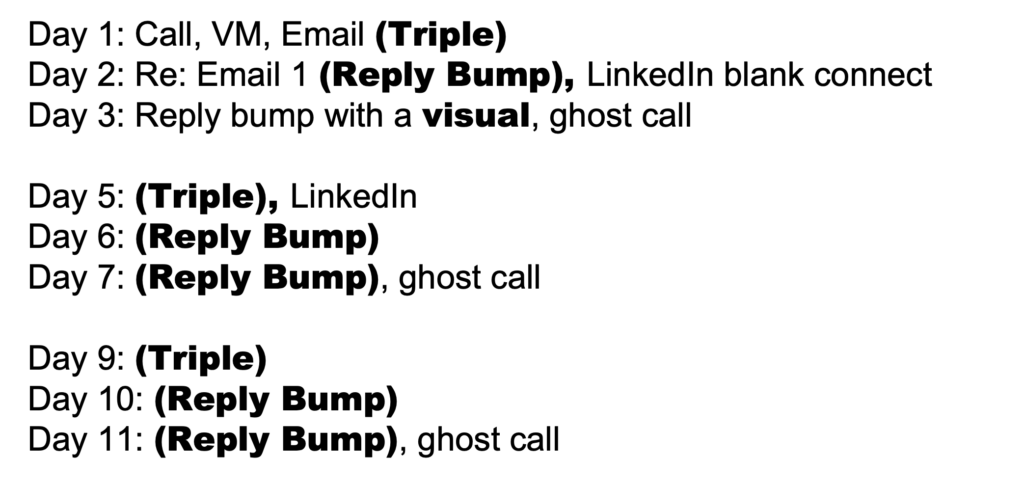 For immature sales teams, meaning they are starting out in sales and don't have a good idea as to their ICP, and personas, I usually start with ClusterBombs as it gets you out of the gates fast with triples (cold calling, voicemails, and emails) coming in quick succession. If the goal of a sequence is getting a prospect to respond, a good Combo will get them responding.
For my more mature clients, I find it is a good fit to provide them with the Agoge Sequence, then try to get them to shorten the time scale.
Once a sales rep is running with a sequence, it is time to assess their ability.
Your sales rep's ability to prospect
With all the other variables set, the last piece of the puzzle is the sales rep.
Evaluating your sales representative's ability concurrently is the easiest and most complex piece to get dialed in.
Even when you put a sales rep into a fully functional outbound equation, they can still fail hugely.
Why?
They need training.
Without proper training, general sales, lead-generating activities, and the nuances of how your product can change your prospect's lives for the better, your rep will flounder. Even with the best script in place, without the appropriate tone, delivery, and industry vernacular, a sales rep will flub prospects ready to move to the next step.
For this reason, when building your outbound equation, my protip here is to thin slice your data as much as possible.
Case Study: How revenue operations segmented the market at Duo Security
Duo Security, we had ten different market segments as listed below. In this way, if you were a sales rep targeting mid-market prospects, we asked them to thin slice their prospect lists; only pulling personas within a specific slice of that market segment.
We did this for a variety of reasons.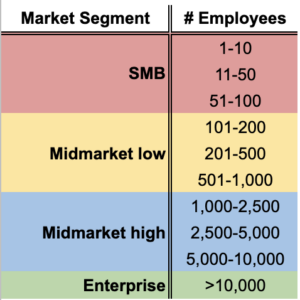 First and foremost, at a management level, we would look at the segments in aggregate. However, at the sales operations level, I would look at the smaller segments, smaller slices, those 'thin slices' and how they were similar or different from those adjacent segments. If there were significant differences, I could dig in and come up with other sales strategies.
For example, I found that within the midmarket-low segment, there were some fast-moving deals. With a little bit of sleuthing, I discovered that they were law firms. These targets would not balk on price, require a bit of technological hand-holding, and, most importantly, close quickly. Thus any sales rep at risk of missing their quota would be encouraged to find some law firms in their patch.
The second reason was messaging and targeting. Consider the edges of each segment. In a company with less than 10 (<10) employees, a director would have a lot more sway than a director at a company with fifty-one to one hundred employees. That difference only increases as the market segments have a wider distribution of the employee counts increase.
In this way, when you've thin-sliced your market segments, you can dial in all your variables to each thin slice which will pay huge dividends in the future.
Conclusion
Building an outbound strategy is not for the faint of heart. I tell anyone who asks me how I would grow sales, first try channel partners, then try creating a referral network. If you cannot grow your business using either of those two methods, you should build an outbound sales engine that is supported by a rev ops team.
Now that you are stuck building your outbound sales engine, understand that you have six very complex variables to solve. Using a scientific method, don't try to boil the ocean all at once; solve for one variable at a time.
Then another.
You don't have to have the variable fully and completely perfect before moving on, just good enough. Refining your sales system is a process that takes time. However, following the above steps and methodically solving your variables will lead you to a successful outbound strategy that will produce predictable results.
Data Maturity article
https://datasalesscience.com/one-question-tells-if-you-are-mature-with-your-business-data/
Title Segmentation article
https://datasalesscience.com/title-segmentation-for-hyper-focused-targeting-messaging/